Did you start giving out invites and get over the fear?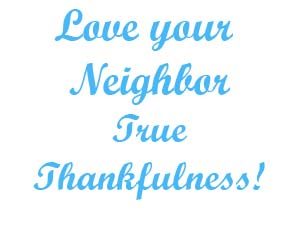 For the last year we talked about loving our neighbor. When we do that we don't just loveour neighbor, no we also change our community. When we change the lives of the people we love we change our lives. We make our communities better. We prepare the ground for people to start knowing Jesus and to fall in love with him. The door will be opened for others to really see the goodness of God and for us it will create a better life too. When we have a better community it translates into a better place for all of us. When we think about others first, we will change inside and selfishness and looking out for our own best intrests diminishes. We are changing to a person that becomes more like Jesus and loves more like him.
So loving our neighbor is good from all aspects. It brings more thankfulness in our lives when we see how others change and become more thankful. In a few days we celebrate thanksgiving a big holiday all about being thankful and community. When we love our neighbor and community it will not just be a day of thankfulness for us, no it will be for all the people we loved well and all the people they loved well and so on. Why, because they might have never had community and now through you loving them they found it and that is really something to be thankful for. Out of that they might bring community to there neighbors because they saw what it did to them and how it changed them. So lets keep loving our neighbor and keep making a difference in there lives. Let us be thankful this year for what God was doing in our and there life.
Hey our friend
We hope your week was good. We had a normal week here in San Francisco. We started preparations for Thanksgiving. This year we will host together with a neighbor which is exciting! Pray for a good time of connections and relationship. Jen and I are doing well too. We watched a sweet little dog of friends of ours which brought a lot of joy!
Think about 3 things every day this week which you are thankful for!
Have a blessed week and be a blessing!
Markus and Jen