Hey our friend
"I tell you the truth, those who listen to my message and believe in God who sent me have eternal life. They will never be condemned for their sins, but they have already passed from death into life. John 5.24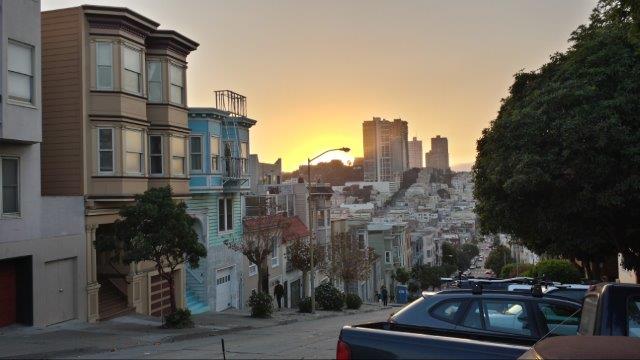 We had a good but also challenging week here in San Francisco. A few weeks ago a good friend and the first person that came to our coffee shop work passed away. We had a memorial service for Him last Saturday and I (Markus) was sharing about his life and talked about John 5.24 "I tell you the truth, those who listen to my message and believe in God who sent me have eternal life. They will never be condemned for their sins, but they have already passed from death into life. It left a lot of the people thinking about their own lives. I ended the message with a challenge to reach out to lonely people that are living around them. It was a moving and emotional time. Please pray for his family in this season. This week we are planning for our thanksgiving meal which we will have next Thursday and also teach the students. Pray for fruitful times.
Thank you so much for all your prayers. We really appreciate you.
We also want to ask you to pray about to join our monthly or one time gift support team. We lost a few supporters over the last few months and want to see if you would like to start partnering with God and us in the ministry we are doing here. Pray about it. You can click on this link for more info on how to support us. Thank you for considering us. It means a lot to us. May God bless you richly.
Obey
Many times I walked through San Francisco and I saw people with Tshirts and Hats that said the word obey. I wonder what the designer of the clothing line had in mind for the people to obey. For Christians it means to obey God and walk in what he calls us to do on a daily base. I think sometimes it can be easy to think that we obeyed God by doing something in our life (reaching out to a person, doing ministry at church, going in full time missions etc.), but the truth is it needs to be an everyday thing. As an example if God called you to reach the people that live next to you and you invite them over for one dinner but then never meet or share with them again, that is not real obedience. But if you ask God on a daily base how you are able to reach them and bring them closer to Him that is true obedience. Walking out daily what God calls us to do is true obedience.  And again it doesn't count to say I obeyed God at one point, it needs to be daily. It's a challenge, but it is important to do since it makes us able to live our life to the fullest.  Ask God to show you areas where you haven't obeyed him and ask for forgiveness in those. Then ask Him to help you obey Him daily. One thing that is important to remember in the area of obedience: God wants the best for us every day!!
Have a blessed week
Markus and Jen