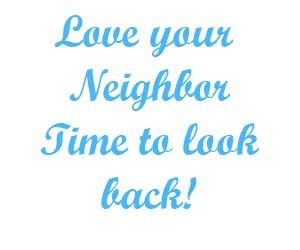 Now its almost been a year since God put it on our heart to write for a full year on the topic love your neighbor. We really hope you got encouraged, challenged and empowered through reading through the different ones.
Starting with your motives and why you want to love your neighbor to prayer and also dealing with things that might hold you back in loving your neighbor. We talked about the importance of your giftings and how you can help others. Encouragment and community also were a big thing especially in being interdependent with your neighbors. We talked about how small things can make a difference and different ways on how you can have people over through hospitality. One week reminded us of the most important thing, love! We also touched challenges with time and how to fix that. And then of course we talked about the importance of showing the love you have for Jesus  through the way you live your life.
This was just touching a few of the points we talked about. If you didn't get a chance to read them all they are all saved under the category Love your neighbor. But more important than reading them is to let them become a part of your life. Let the things they talk about inspire you to bring hope and change to the place you live. Be one of the lights that Jesus talks about in Matthew 5.14-16 to your neighbors. Make that area shine and stick out so people can see the love of God in a new way. Its so simple that each one of us can do it. So if you haven't started, today is a perfect day for it!! And one thing that really helps is if you surround yourself with a group of people that want to join you in their own areas so you can encourage each other! It really helps!
 Hey our friend
Wow Christmas is only 1 week away. That is crazy to believe but in some way its easy to believe since we had so many Christmas parties we attended. As more you are connected with your community as more you are a part of things that are going on. We also had a day of baking to bless neighbors with a card and a home baked specialty. It was something so simple, but it brought so much joy to so many. I also had my last mentoring meetup for this year. Its amazing to see how a young person can grow if you invest some of your time and love. Also through that he became part of our family! Maybe there is someone in your neighborhood that needs a mentor or an encourager. You should find them and do it!
Remember that loving your neighbor is easy, you just have to do it!
We wish you a early merry Christmas!
Markus and Jen