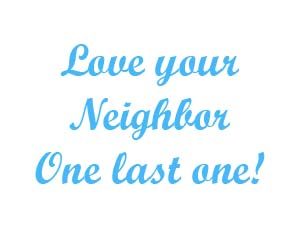 So this is the last blog of the year and on our series Love your Neighbor. But that doesn't mean its done. No now it starts for some of us and for some of us it keeps going. When Jesus gave the command to love our neighbor He did not put a time limit on it. No this is something we are called to for the rest of our lives. Just think if the disciples would have stopped loving their neighbor what would have happened. The world would probably look different today.
God wants to partner with each one of us in transforming this world. Yes he could do it himself, no problem, but in relationship you want to partner with the other person. So we have to do our part. And we often ask God the question what should I do when we already received the answer Love your neighbor! SO what about if we make this all our theme for the year 2018. The world will start to look different. Our communities start to look more hopeful and we start having a stronger bound which holds us together. The crime rates will go down because we watch out for our neighbor, but not just that by loving our neighbor we can help prevent crime by helping people make better choices.
SO instead of putting our trust in politics, money or whatever we look for to bring change, let's love our neighbor and bring the love of Jesus and with that change. With that we wish you a merry Christmas and a happy new year
 Hey our friend
Christmas is here and might be already gone by the time you read this blog. We probably already ate our wonderful Christmas dinner with neighbors and had a wonderful time. Our last week before Christmas was busy like usual, but we had time to spend time with friends from the community for a lunch or have a potluck with our church small group. What a blessing it is. Now we are starting to plan for the new year and all things ahead. Jen and I have a tradition to pray at the end of the year for words for the new year. We also look back at the ones we got for the last year and see how God moved through them and how they came to pass. We want to encourage you to pray for your new year and let God give you words for your new year.
Merry Christmas!
Markus and Jen