Hey friend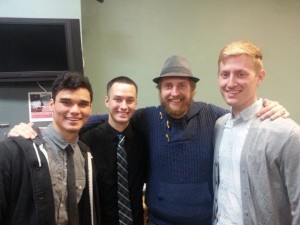 We hope your last week was great. Our students from the fall school graduated and are moving into the new things God has for them. Its always so exciting to hear how God is using young people to change and impact this world. We also had 2 good friends from Iowa here for a visit. It was a wonderful time. During the week we were also meeting with different people in the neighborhood as well we started to connect with a neighborhood association which is exciting since we prayed for that to happen a week before. Praise God.
Heaven is more real than you think or believe
I want to share a story of hope with you that will hopefully encourage and challenge you. It actually just happened a few month ago. Jens grandpa, a wonderful loving old amish man, was close to dying. He was a man that was loved by everyone and people said about him that in his presence they felt loved. He was always humbled and had a huge love for Jesus. I would say a man after Gods heart. During his time of dying he was sharing about 2 heaven experiences he had. In one he saw many happy children and his son (Jen's dad who passed away 14 years ago), who he didn't recognize because of how young he looked. He also saw his wife. Another thing that happened was an encouragement to a hospice lady that was with him. He told her about a child that he saw in heaven and that she was ok. The lady was crying but also got really encouraged, her child died 5 month before that. After that experience he said that the food here was moldy and the water tastes bad. Shortly after that he died. His last days on earth he used to encourage and bring hope. A few weeks after that a not related person shared with me about a person in there life and how they experienced something similar and they also saw children.
Now you can put this down and say that it was a fantasy, or you can try to explain it in a medical way. But i believe that God brought him back for a short time to encourage us in our faith, to stop and think about what life really is about. Is it about success, money, power, ministry, doing good things or family etc.? Or is it about getting into a deeper relationship with Jesus and to learn more about his plan for our life and also get ready for the time in eternity. I think both of the reasons will coexist, but our main priority should always be our relationship with Jesus and after that all other things can come. Let this be a wakeup call for all of us to think about what has priority in our life.
You might read this blog and never had a personal relationship with Him. If you want to have a personal relationship with him just ask him into your life through this simple prayer.
"Father, I know that I have broken your laws and my sins have separated me from you. I am truly sorry, and now I want to turn away from my past sinful life toward you. Please forgive me, and help me avoid sinning again. I believe that your son, Jesus Christ died for my sins, was resurrected from the dead, is alive, and hears my prayer. I invite Jesus to become the Lord of my life, to rule and reign in my heart from this day forward. Please send your Holy Spirit to help me obey You, and to do Your will for the rest of my life. In Jesus' name I pray, Amen."
After you did that get connected with a church, small group in your area so you can learn more about what it means to live our lives with and for Jesus.  Under this link you can get more info about everything.
Have a blessed week and know that you are loved
Markus and Jen
P.s. San Francisco, besides Manhattan, is the most expensive city in the nation to live in. However, we believe God has called us to be missionaries in the urban world. We found a few more monthly supporters in the last months, but currently we are still in need of $3,000 more a month to cover life and ministry costs. We'd like to offer you an opportunity to join us in engaging a city with a loving God.
This is what we are looking for
5 people that commit to give $200 a month
10 people that commit to give $100 a month
10 people that commit to give $50 a month
20 people that commit to give $25 a month
20 people that commit to give $10 a month
Or you can support us with any amount you would like. This could be monthly or as a onetime gift. Anything helps. Under this link you can find all the info on how to support us.
Thank you for partnering with us through your giving!