So what were you thankful for and how does it and is showing in your life?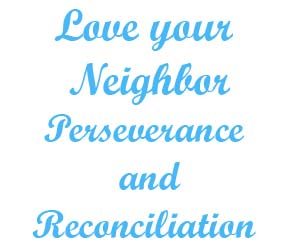 One of the main things in loving and investing in neighbors and our communities is perseverance. It always reminds me of Jesus and how he invested in His disciples over and over again. He never gave up on them and always persevered. But even in his own life he never quit even till the cross he was perseverant to finish well.
When we build true relationships we have good and bad days. Especially in the hard days we need perseverance to keep being committed to each other. When you work through hard things together you will grow closer together. I remember situations where we had hard days with people, but instead of walking out of the relationship we choose to work on it. And the thing that happened was that we got closer and had a deeper relationship with each other.
I am sure that you or somebody you know had a bad experience with a neighbor. You had the choice of shutting off the relationship or fix it. Maybe you still have that separation going on right now and you choose not to persevere. So we want to challenge you in this pre-Christmas season to persevere and do your part to fix it. So make this week's goal to take the first steps by just doing something nice for that person. Maybe bring over some fresh baked cookies or something else. Start walking into this season with a heart of perseverance and reconciliation since Christmas is the time when Jesus came into the world to reconcile us with the father. Let's persevere so we get to see how it changes our life, relationships and neighborhoods.
Hey our friend
Thanksgiving is over and we hope you made it back out of the food coma! We had a wonderful celebration for thanksgiving which we cohosted with a neighbor. It was a lot of fun! It showed how our area grows closer together which is amazing! We hope that you also had a great Thanksgiving celebration. Jen and I had a few days off after thanksgiving which was fun. For the next few weeks it will be busier with Christmas coming up so it felt good just to slow down for a little bit.
So remember this week to persevere and reconcile with a neighbor!
Have a blessed week and be a blessing!
Markus and Jen