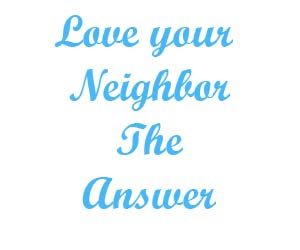 Sometimes you can be in a huge crowd of people and still feel alone. This is the reality for many people in our cities and some in the countryside. But now with this Christmas season many experience it even stronger. The feeling of being isolated can make people question themselves if there is something wrong with them. As longer those lies are lingering in their lives as more it isolates them and as less likely they will connect on their own. So isolation becomes stronger and stronger. And as more isolated we are as more lies the enemy can throw at us and the more we believe it because no one tells us the truth.
But there is hope!! Jesus never left us without a solution to any problem. He has the answer to all of them. I believe the solution he would give us to that problem would be to look into the mirror. Each one of us can be the answer. All of us can reach out to a neighbor and be a friend. Just think about it this way: If every person in the world reaches out to their neighbor and becomes true friends with them, there is no more isolation. But not just that, if all Christ Lovers do that almost all people on this planet can see His love through one of us. He can use us to change this world and bring hope through true friendships and family.
We want to encourage you to join the movement. Start today to love your neighbor. If you need tips on how to start read all the old blogs from this year. They will help you with ideas.
Let this Christmas season be a season of family and community for everyone!
 Hey our friend
How is your Christmas season going? Hopefully you have a chance to spend some time to reflect on the true meaning of Christmas. Our time here in SF is going well. We had meetings, a brunch and at the end of the week a Christmas celebration with our ywam bay area family. It was wonderful. But with all the activity we are trying to find those times of reflection. It can be hard to find the time, but it can be done. As we find them join us and find them too!! That way we all will be blessed!
So remember this week that you are the answer to loneliness and isolation in our world!
Have a blessed week and be a blessing!
Markus and Jen